Quebec City
Quebec City
is the capital of
Quebec
, a province in the
country of Canada
. The city ranks the second most populous in its respective province. Quebec City is rich in
historical places
, French culture, and
economic growth
.
History
The city got its name from the Algonquin word Kebek, which means "where the river narrows". Just at a close proximity to the city and Levis, the Saint Lawrence River narrows, thus giving the name of the place. Quebec City is one of North America's oldest cities, founded by Samuel de Champlain in 1608. In 1759, the British took control over the city and ruled it until 1763. The Battle of Quebec (1775) between the city's defenders and the American Continental Army forces ended with the defeat of the revolutionaries, putting an end to their hopes that Canada would join the United States of America. In 1985, the ruins of the fortified city walls of the Old Quebec, called the "Historic District of Old Quebec", were declared by UNESCO a World Heritage Site.
Economy
The early economy of the city was largely dependent on the operation of the transit port, with export of lumber, cereals, and furs and import of manufactured products. The substantial expansion of trade enabled the city to maintain its competitive position as a key trading center of the Quebec province up to mid-19th century. Today, some of the popular jobs in Quebec City are concentrated in the areas of tourism, defense, commerce, transport, services, and administration. The city serves as the regional administrative center for the whole province.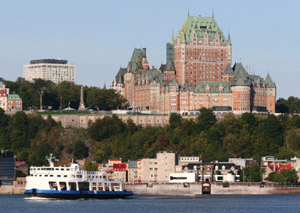 Most jobs in the city are offered by the provincial government. Some of the most popular products include chemicals, printed materials, processed food, pulp and paper, metal and wood items, and electronics/electrical equipment. Beenox, a computer game studio, as well as La Capitale, SSQ, and Industrial Alliance have their headquarters in this city.
Demographics
The population of the city, according to the 2006 census, includes 491,142 residents in the city proper, and 715,515 in the metropolitan area. Out of the residents in the city proper, 51.8 percent were female, while 48.2 percent were male. Most people in Quebec City are Francophone and
speak French
. Nowadays, Anglophones make only a total population of 1.5 percent in both, the metropolitan area and the city. The average age is 39.5 years. Over 90 percent of the people are Roman Catholic while the rest consists of the Jewish, Protestant, and other
minorities
.
Places of Interest
Among the interesting sites that
Quebec City
offers are the Saint Lawrence River, the Haute-Ville, Basse-Ville, Saint-Roch, Montcalm, and Saint-Jean-Baptiste. There are many staircases that connect Basse-Ville and Haute-Ville. These include the Escalier Casse-Cou and the Funiculaire. At the other side of the river is Levis, a town connected through a ferry service. Musee du Quebec is situated in the urban park Plains of Abraham and features collections of ancient and modern masterpieces. Other places of interest include the aquarium near Quebec Bridge, the zoological garden in Orsainville, and the Grand Theatre de Quebec.