How to Apply for Credit Card in Canada?
Applying for credit in Canada
is not a mind-boggling experience. The text below will guide you through the procedures and forms that an applicant for a credit card in
Canada
will have to complete.
Things to Know
Before you apply for a credit card, take your time and get familiar with some of the basic information and frequently asked questions on what a
credit card
is and how it is used.
First and foremost, you should know that with a few exceptions, all credit cards in Canada have an annual fee. Essentially, this is a flat fee charged each year by the credit card issuer, be it a bank or another financial services provider, for the use of the card. The annual percentage rate or APR is a figure that shows the cost of credit relative to the charge for being financed, which includes interest, as well as some other charges. When you buy something with your credit card, interest does not immediately accumulate on the used credit. Usually, your credit card issuer will offer to you a grace period during which you could pay off the outstanding balance on your credit interest free. Whether you will be issued a credit card and what its limit and type will be depends to a great extent on your credit report. It is compiled by the consumer agencies such as
credit bureaus
, so that creditors can obtain information about the credit card applicant and assess his or her credit score. Usually, a credit report contains information about the applicant's financial history including last place of residence, employment and payment record, whether the applicant has
filed for bankruptcy
before, etc.
If you have decided to apply for a credit card in the old fashioned way, you will receive all the necessary instructions at the retail center of your bank or credit bureau. However, it is much more convenient and time-saving to file an application over the internet.
Large banking institutions
(e.g.
Royal Bank of Canada
,
Bank of Montreal
,
Canadian Imperial Bank of Commerce
, etc.) and many of the second tier banks offer the option of applying online. Bear in mind that in order to qualify, you have to be a Canadian resident and must have reached the majority's applicable age in the territory or the province you reside.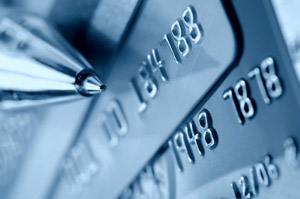 With some of the basic notions on the procedure in mind, go through the steps you have to follow when applying for a credit card. After you compile a list of necessary information, it will take you no more than 10 minutes to fill in your application.
Step One: Compile a List of Relevant Information
The first thing to do when applying for a credit card online is to prepare some relevant information such as your gross monthly income, your current address and, in case you have lived at your present address for less than two years, your previous address, as well as your student number and university information, if you are attending full-time classes. You can also purchase an optional balance insurance or lower interests rate.
Step Two: Fill in Forms
Now you have to fill in some personal information including your first and last name, date of birth, number of dependents, excluding your spouse or partner, social insurance number and email address. Then you have to fill in your address, your housing status and your monthly rent or mortgage installment, if you are not a home owner, as well as your home telephone number. Once you have filled in your personal details, you will be asked to fill in your financial information, including employment record, gross monthly income, credit history, etc.
Step Three: Review and Send
Review your application form and send it to your preferred credit card issuer. You have the option to change some of the details in case you filled in incorrect information. You may expect a reply from your bank within five workdays after filing your application.