How to Buy Silver Bullion in Canada
Silver may not be as attractive investment object as
gold
is, but its positions on the international markets are equally solid. If you consider
purchasing physical silver in Canada
, you may be able to diversify and also consolidate your investment portfolio. Find below some of the vendors that have well-established positions on the Canadian silver market, accompanied with a sufficient amount of positive feedback from their customers.
Established back in 1832, the
Bank of Nova Scotia
, also known as Scotia bank, is the third largest
bank in Canada
, and it is also the largest vendor of silver bullions in
Canada
. You can simply visit one of the bank's 950 branches scattered across Canada and buy your silver bullion immediately and without too much paperwork to be filled. Keep in mind that the buyer is usually required to cover the delivery expenses, as the
silver bullion
is ordered from the bank's main vault in
Toronto
and shipped via a national delivery company to any of its local branches. The good news is that if you order your silver bullion in the morning, you will almost certainly receive it by the end of the same business day. A little inconvenience is that silver bullions at Scotia banks are paid for at the bullion and currency exchange counter which may be quite overcrowded sometimes, especially in high travel seasons. Still, you can be assured that your patience will be rewarded, as the smiling lady or gentleman at the counter will provide you with real time silver quotes and the latest exchange rates, which is particularly important -
precious metals
trade in U.S. dollars. Once you book your order, they send the order down to the vault, and you wait for it to be supplied. All potential silver buyers who get sick and tired of waiting in line may hope that Scotia bank will soon launch an online silver order service.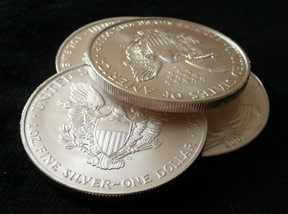 When Todd Sandham and Cameron Bevers founded Colonial Acres Coins back in 1991, they could hardly imagine that only a few years later, their company will become the most successful numismatic business in the country. Today, Colonial Acres Coins also sells silver bars and bullions of up to hundred ounces, as well as gold collection coins and coins of the
Royal Canadian Mint
. You can order silver bullion or junk silver from their online store without any problem. Because the prices listed on their website are not always accurate (due to the constantly fluctuating prices of
precious metals
on the global markets), you should first reach them over the phone and get the latest prices before you book your silver bullion.
Border Gold is another primary precious metals vendor in Canada. The company is located in Surrey,
British Columbia
and offers 10 oz silver bars, Canadian silver Maple Leaf coins, silver American Eagle coins and 100 oz silver bars.
Finally, you can try buying silver from the Canadian business of E-bay, but it is not recommended. If you decide to risk it, you can at least try to avoid US-based customers as shipping fees and duties can rip your pocket.