What are the Top Telecommunication Companies in Canada
In the age of global connectivity and communications, it makes sense to explore which companies make it possible for the Canadians to communicate with the rest of the world. Some of the
largest telecommunication companies
operating in Canada are Bell Telephone Company, Rogers Telecommunications, and Telus.
As most of you may know, the telephone is the brainchild of a historical figure going by the name of
Alexander Graham Bell
, who received a
patent
for his invention in the United States back in 1876. Alexander then conferred 75 per cent of his Canadian patent to his father Melville Bell who, together with his friend Thomas Henderson, started leasing heavy wooden telephones for private use. Their business was going on more than well, and they soon established a partnership with some businessmen from Chicago. Shortly afterwards, the
Bell Telephone Company
was founded in 1880. The federal government granted the telecommunication company an exclusive monopoly over the long distance telephone services in the country. With such a flying start, it is hardly a wonder that today, Bell Canada is the largest and strongest telecommunications provider in the
country
. The company's shares are traded at the
stock exchanges in Toronto
and New York under the ticker BCE, and it has over 54,000 officials.
Rogers Communications
is another big telecommunication company in Canada. Headquartered in
Toronto
,
Ontario
, the company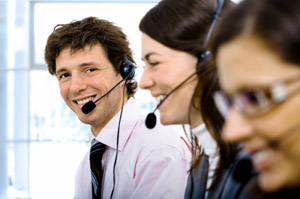 has developed its business mainly in the field of wireless communications and cable television, while the company's telecommunication business is operated by its subsidiary Rogers Telecom. The shares of Rogers Communications are traded on the stock exchanges in Toronto and New York under the stock symbol RCI. At the end of Q1 2010, Rogers Communications announced entirely positive financial results with total revenues of over 11.3 billion
Canadian dollars
and operating income of over four billion CAD. The company's total equity for 2010 is slightly over twenty billion CAD, and it has twenty-eight thousand employees.
Telus
is one of the youngest telecommunication companies in Canada – founded at the beginning of 1999 and following a merger between Telus Corporation and BC Telecom – but its future is more than promising. The company provides home telephony, high speed internet, cable and satellite television and mobile telephony services throughout Canada, and it has also developed flexible and highly-convenient telecommunication solutions to help its clients' business grow. The head of the executive team is Darren Entwistle, President and Chief Executive Officer, while Robert McFarlane is the Chief Financial Officer and Executive Vice President. Latest statistics show that Telus is the largest telecommunication company in Western Canada and the second largest in the country. However, its return, including dividends, for 2009 was down by 3 percent due to the financial crisis. Dividend paid to the shareholders amounted to $602 million while its revenue totaled $9.6 million. Communication stocks across the North American Continent underperformed last year, and companies with high exposure to wireless were among the most affected. At present, Telus has a total of 12 million customer connections, 6.5 million wireless subscribers, 4 million network access lines, and 1.1 million customers taking advantage of its high speed internet service.