How to Become a Veterinarian in Canada
Veterinarians work to aid animals and care for sick, injured or maimed animals for which some difficult decisions have to be made. Vets endure stress and work unpredictable hours many times. Their profession requires dedication, endurance, and expensive education. These factors are important in determining whether this field is a good one for you. Remember that love for animals does not necessarily translate into the right career choice.
To
become a veterinarian in Canada
, you have to be accepted in a college of agriculture or a college of arts and sciences. You will finish your pre-veterinary education there. In order to apply to a school of veterinary medicine, you need 60 or more credits. In most colleges, you will be required to take a variety of courses, including organic chemistry, physics, biology, genetics, microbiology, math, biochemistry, and more. In addition, it is better to obtain a degree in the natural sciences, such as a degree in biology, zoology, or chemistry, but this is not a requirement as long as you take some prerequisite course. It is best to ask the veterinary school you have chosen what types of classes you should take as part of your undergraduate degree. It should be noted that vocational schools do not usually provide sufficient pre-veterinary training and education. So, you may not be able to qualify for admission in a university of your choice later on.
Naturally, excellent marks are very important and if you consider further study, getting at least a B+ average is a must.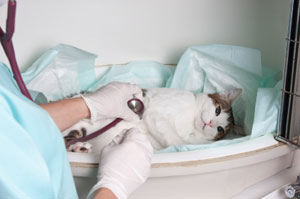 Once you have obtained your Bachelor degree, it is time to completer your training at a veterinary
school
. You can choose from several Canadian universities, among which the University of Prince Edward Island and the University of Saskatchewan Western College of Veterinary Medicine. Other universities to check are the University of Calgary and the University of Guelph. Standards of admission differ only slightly. It is better to attend an accredited university, but this is not a requirement.
Universities
offer Doctor of Veterinary Medicine programs, which are quite intensive and are 4 years in length. All programs are offered with considerable practical experience.
To get licensed, you will have to obtain a Certificate for Qualification, which is required in all
provinces in Canada
. This exam consists of three separate exams: North American veterinary license exam, clinical proficiency exam, and chemical science exam. You can obtain an application and information from the National Examining Board. The Canadian Veterinary Medical Association oversees the national requirements for licensing. It may pay to visit their website if you consider pursing a career in this field. The website contains links to different provincial licensing boards as well.
Keep in mind that veterinary colleges will take into consideration your experience with animals. Even applicants who have pets should aim to gain as much experience as possible. For example, you may work in a vetís office, a pet store, a boarding kennel, or a zoo. This will improve your chances and strengthen your application. Volunteer work and other extracurricular activities are taken into consideration as well.
When choosing a
career path
, you should know that jobs are available in research, teaching, the government, the military, and public health. Some practitioners, for example, choose to specialize in caring for livestock. Other specializations you can choose from include cardiology, dermatology, and more.